10 Pin Bowling at Gunwharf Quays or Bedhampton
Bowlplex at Gunwharf Quays Portsmouth and AMF at Bedhampton is more than just 10-pin bowling, it is total entertainment all under one roof.
Boasting 26 computerised bowling lanes, offering bumpers and bowling ramps (if required) for the youngest of enthusiasts.
Both Venues offer Bars and Eating facilities offering a relaxing family atmosphere serving a range of foods and drinks that cater for all tastes.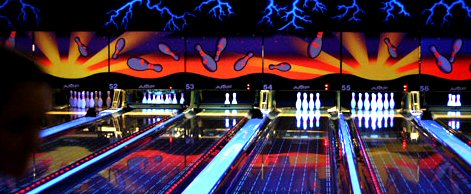 Complementing the bowling lanes both venues offer late License on Fridays and Saturdays. All the latest hits are played and everybody is encouraged to get up and have fun.
GunWharf or Bedhampton Bowling Package One £25.00pp (Minimum 8 sharing)
8 Sharing a choice of either our pink or white limo, for an hour pose and cruise 1 games of bowling Bowlplex Portsmouth or AMF Bedhampton and return journey home.
Gunwharf or Bedhampton Bowling Package Two £35.00pp (Minimum 13 & max 16 sharing)
Upto 16 Sharing the Stretched HUMMER H2 posing and cruising for an hour, 1 games of bowling Bowlplex Portsmouth or AMF Bedhampton including a snack meal and return journey home.
What visitors say about this package.
"...we just enjoyed ourselves so much, the fun started from the moment we stepped out the door of our house and into our limo and with no worries about driving we all partied, what a great night."
Sam H - Portsmouth 2011