Birthday Bash Limousine
Our Birthday Limo promise to get the party started whether it is a landmark birthday such as a 18th 21st, 40th, or retirement will will ensure the birthday party starts in style.
Our exclusive booking means it is your car and we will take you to your party destination and take you home afterwards with out the worry of wondering if the limo will turn up, and we don't wont to ruin your birthday, it is your limousine exclusively.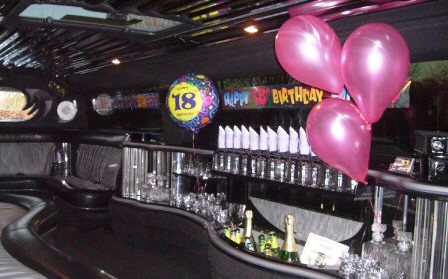 We can decorate you birthday party limo, in whatever theme you wish, we can add vinyl lettering to the outside so you experience the full custom party theme.
Package Options
Up to 16 sharing
A choice of Limousines from Town cars to Hummers
Plenty of time for cruising and posing
Photograph souvenirs
Safe return journey home
Vinyl Customisation with your names and event

Birthday Bash Limousine
Because you want the best on your birthday or if you a re booking for a friends party it really is best to book well in advance, but it can never be too late!
Our popular and recommended service means we often have to sadly say no because it is left too late, so please think ahead and we will make it so much more special than a last minute limo broker.
What has been said about our Birthday Bash Limo.
"...first the limo had our names on it then all the balloons party hats and champagne, the party started well before the official party started, brilliant thanks for everything...."
Amber and Kimberly - Waterlooville